Creating a community of transformed lives.
Here at Gateway Church our goal is to love Jesus fully and to make his love known to our city. We have a variety of ministries that help us do just that and we want to invite you to check them out. Take a few minutes to look around our web site and learn a little bit more about who we are and what we're up to. Or better yet, stop by and check us out in person, we'd love to meet you.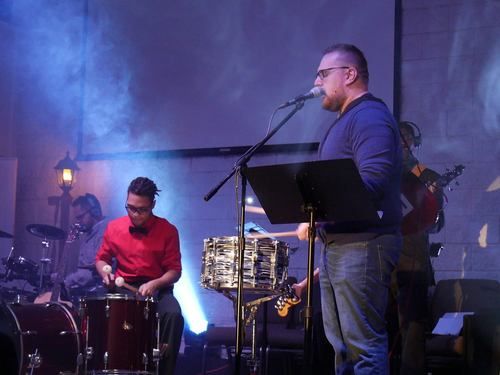 Dear Gateway Family,

After much prayer and consideration and after having a series in depth conversations with among key leaders here at Gateway Church, we have come to the decision that we are going to back to an online only format for the remainder of 2020. This will take effect immediately. Therefore, this coming Sunday, Nov. 29 we will be online only. This will continue for the rest of the calendar year.

With COVID-19 cases spiking in our county and with the desire for many families to travel or connect with family over the holidays, we wanted to act out of an abundance of caution and provide the safest means possible of worshiping and discipling so that we can continue to create communities of transformed lives in the midst of our current social uncertainty.

This decision may generate some questions for you, so I would like to attempt the ones I anticipate will be the most common.

•What about the church office? At this time, we are keeping the church office open and will continue to operate our normal office hours.

•What about Life Groups and other ministries? We are allowing each group to make the decision they feel is best for their members. Most of our groups are smaller in nature and people can spread out as needed. We recommend using best practices to prevent the spread of any infectious illness but are allowing each group to decide for themselves what is the best course of action for in-person meetings.

•How are we going to handle Share-A-Blessing? Share-A-Blessing is significant means for us to engage our community with the love of Jesus during the holiday season, and this year is no different. We will still have "ornaments" available on the big orange Christmas tree that you can stop by and pick-up during business hours. But the easiest way to be a part is to go to our Share-A-Blessing gift list at Amazon.com and simply purchase items there. You can go to Amazon.com and search for "Gateway Church Share A Blessing" to find the list or you can click the following link and it will take you directly to our Share-A-Blessing shopping list. That list will be completed by Sunday, the 22 and you can begin your shopping at that time.

•What about Christmas Eve? We are going to have our Christmas Eve service online this year. We will offer our Christmas Eve worship at four different times on Christmas Eve. There will be Christmas Eve services at 3:00pm, 4:00pm. 5:00pm and 6:00pm. We encourage you to invite friends and family to join us for one of our Christmas Eve services or maybe even host a watch party. Additionally, our 6:00pm service will be replayed each hour until midnight Christmas Eve just in case you miss one of the other opportunities.

•How will we stay connected? Staying connected during this time is more important than ever. Therefore, we want to encourage you to download our mobile app (just search for Gateway Church-MO in the iTunes or Google Play store). We also suggest that you follow us on Facebook and on YouTube. We are going to provide extra content during the week to help you stay connected with your Gateway Church family. The pastoral staff will also be reaching out to check on you as will your Life Group leaders. Additionally, be sure to check in on each other.

•When are we coming back? The current plan is to return to in person worship services on Sunday, January 3rd. Obviously, this is a fluid situation, and those plans could change, so we will keep you updated as we get closer to that date.

•What if I have other questions? Feel free to contact the church office by phone (636-278-5061) or email (info@mygatewaychurch.tv). You can also reach out to our Pastor Steve directly by email (steve@mygatewaychurch.tv). We want to answer any questions you may have and keep you up to date.


Let me close this message by wishing you all a Happy Thanksgiving. While these are not ideal circumstances and while it seems that this year has been rougher than most, we have so much for which to give thanks. So, take the time to give thanks to God for His amazing grace and the incredible blessings he has given to us.

You are a wonderful congregation, and I am honored to serve as your pastor. I love you all and I am praying for you. Please keep the leadership of Gateway Church in your prayers during this time and I look forward to seeing you all in January.

Serving Him,

Pastor Steve
Student Ministry - 7:00 pm
We'd love to hear from you. Fill out the form below to get started.